Aosta. Information and contacts.
Aosta. Information and contacts.
Single emergency number
112
Carabinieri - State Police - Health Service - Fire Brigade - Regional Civil Protection  -
Aosta Valley Forestry Corps - Aosta Valley Mountain Rescue.
Public toilets
There are currently 13 public toilet facilities dotted around the Aosta area and listed below, offering a total of 24 usable toilets:
Dora district;
Piazza Mazzini;
Piazza Plouves;
Piazza Arco d'Augusto;
Via de Sales;
Piazza Ducler;
Via Monte Vodice (currently unusable because it lies within the NUV construction site);
Via Saint-Martin-de Corléans;
Signayes;
Viale della Pace;
Via G. Eyvia;
Regione Saumont;
Via Volontari del Sangue;
Motorhome area in Via Caduti del Lavoro;
Car parks in Via Carrel, Regione Consolata and Via Roma.
https://www.comune.aosta.it/it/aree_tematiche/innovazione_tecnologica/elenco_installazioni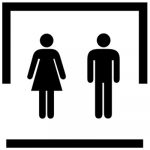 Motorhome area
"Camper Park"
Via Caduti del Lavoro, 15 - Aosta