Aosta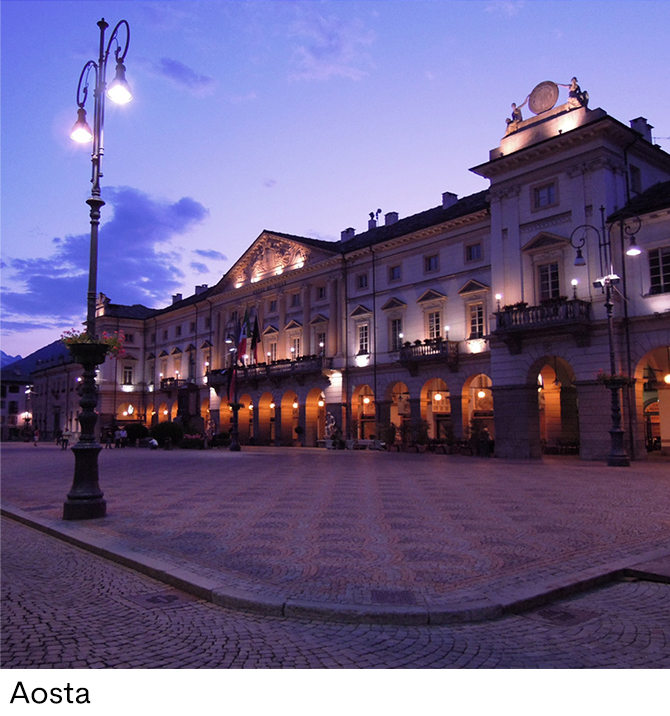 Aosta
The Romans founded the city of Aosta in 25 BC, naming it Augusta Praetoria in honour of the Emperor Octavian Augustus.
Known as the Rome of the Alps, Aosta has maintained much of the original city walls. Visitors can admire a prestigious archaeological area between Porta Praetoria, a majestic and perfectly preserved entrance to the city, and the Roman Theatre, with a monumental façade that is one of the most significant representations of the period.
For a particularly enjoyable visit, take a wander through the lively pedestrian streets and the central Piazza Chanoux, do some shopping, enjoy a few gourmet specialities in the numerous restaurants, bars and wine bars in the centre, or attend some of the events and activities organised.
Aosta is an ideal base for exploring the whole region, taking advantage of the various sports and entertainment opportunities it offers in both summer and winter. The gondola lift , just a stone's throw from the railway station, connects the bottom of the valley in just 17 minutes to the renowned, panoramic ski area of Pila (1,800 m), also an ideal summer destination for pleasant walks or daring downhill and freeride bike rides.
Share: