Bikes and e-bikes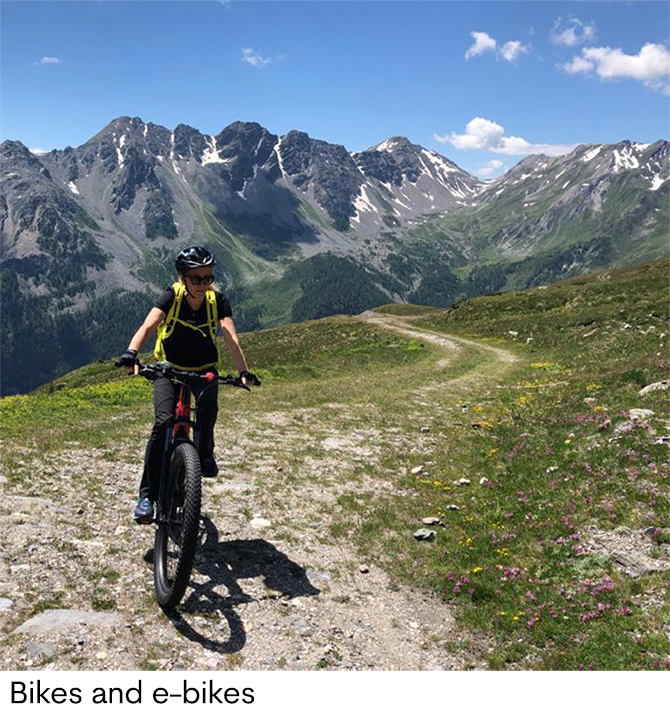 Bikes and e-bikes
Visiting the centre of Aosta by bike is a unique, romantic experience. But for cycling fans, the real thrills are to be had heading a little further afield, with appealing, flat routes suitable for the whole family, itineraries nestling amid nature and adrenalin-filled mountain bike descents. Whether you bring your bicycle with you or rent it once you arrive in Aosta, this is a great way to combine relaxation with a little sport and fun in the open air.
Remember the legendary, iconic, vintage Italian Graziella bike? The  "Graziella City Tour" proposed by the cycle tourism guides offer a novel way to appreciate the city of Aosta.
VéloDoire is an easy route that runs alongside the Dora Baltea river, in the Aosta area, for walking, jogging or cycling in peace and safety.
From Sarre to Fénis, from one castle to another, 20 km of flat, fully asphalted roads for a relaxing ride.
Between vineyards and the Via Francigena
Left or right of the Dora Baltea, it makes little difference: both are a triumph of nature to cycle through. The Envers (to the right) offers routes through vineyards and apple orchards in the municipalities of Gressan, Jovençan and Aymavilles, while to the left of the river, among broadleaf forests and the famous ru, or irrigation canals, you can cycle along the Via Francigena, reaching Quart Castle on one side and Roisan or the splendid
medieval aqueduct on the other.
Downhill, freeride, cross-country: pure adrenaline. Where? In Pila, where you'll find something for all tastes and abilities.
Every summer, the bike stadium trails await all those who love the thrill of downhill biking. The numerous trails also offer breath-taking views.
If you don't have your own bike, no problem: rent it here, but book in advance!
Share: