Pollein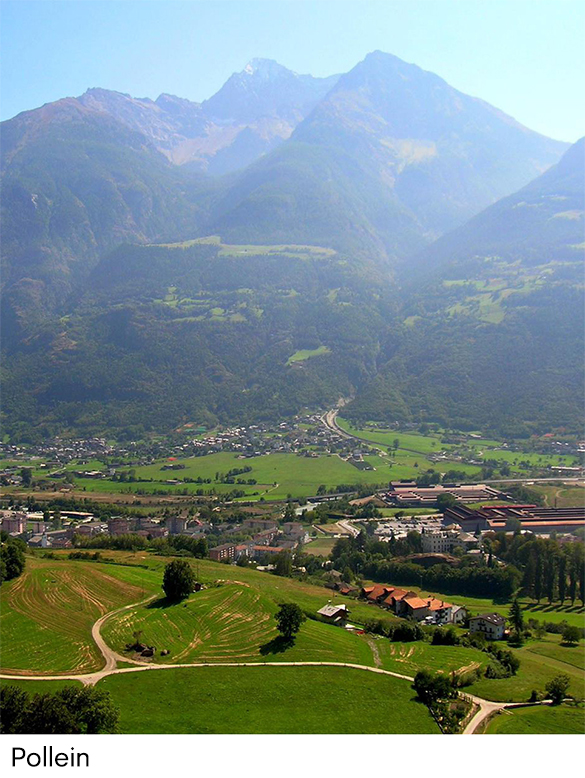 Pollein
Pollein is one of the municipalities you come to as soon as you reach the Aosta motorway exit.
The territory of Pollein is believed to have been part of the Roman centuriation land measurement system, like the neighbouring municipalities we'll be exploring, following the foundation of Augusta Praetoria in 25 BC.
Pollein is almost entirely situated on the right bank of the Dora Baltea, with the Arpisson stream dividing the territory in two.
In Pollein, you can relax or enjoy a little sport in the "Grand-Place", a large 10-hectare green area with zones for sunbathing where, especially at weekends, you can watch popular local sports such as tsan and rebatta. In the same area, there is a football pitch, a children's playground and a circular trail for joggers and cyclists.
The Grand-Place is the starting point for the cycle path from Sarre to Fénis, via Pollein.
The 'Grand-Place' houses a park around the main building, featuring a variety of shrubs and tall trees, including two specimens of Ginkgo biloba, a so-called 'living fossil', the only survivor of a group of plants that flourished in the Mesozoic Era, as well as a Rock Garden. The boulders are visible on the sides of the road that runs from right to left through the easily accessible park. Each boulder is accompanied by a descriptive sign telling its story.
Share: