Specialities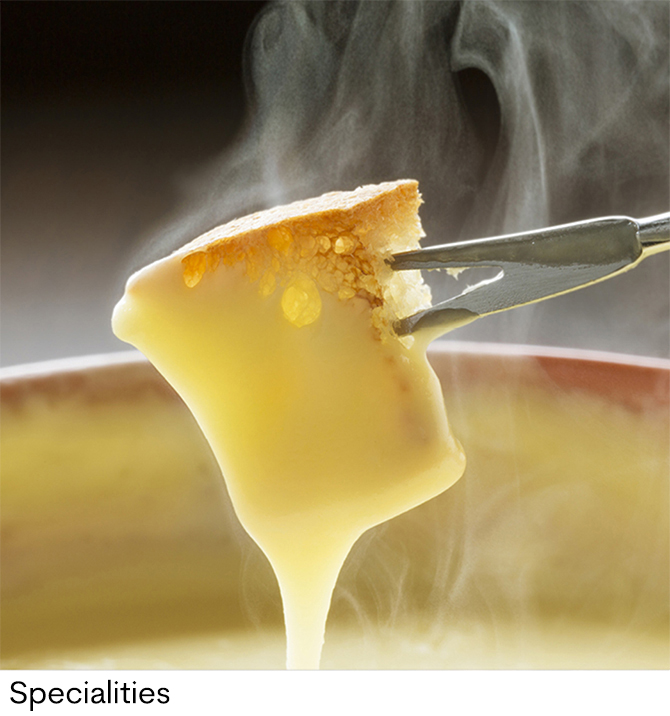 Specialities
When you think of the food of Aosta and the mountains that surround it, the first image that comes to mind is probably Fontina. This cheese is the queen of the Aosta Valley's PDO products – the others being Fromadzo, Jambon de Bosses and Lard d'Arnad – and the star of many traditional dishes, which once had to be both tasty and hearty to overcome the hardships and cold mountain people were faced with.

The best mountain products arrive in the city, such as Fontina, from the mountain pastures that give it a particularly rich flavour, with hints of the flowers and grass that the cows – strictly of the three indigenous Aosta Valley breeds (Pezzata Rossa, Pezzata Nera and Castana) – graze on during the summer.

Fontina PDO is the key ingredient in polenta concia, i.e. with cheese and a lot of butter, tasty on its own but excellent with game meat dishes or carbonara, a kind of beef stew cooked in wine, which is very tasty.

Crespelle alla valdostana also have Fontina as one of their main ingredients: these crêpes, also filled with cooked ham and covered with béchamel sauce and baked au gratin in the oven to make them crispy on the outside and soft and creamy on the inside.

Also very famous is the cotoletta alla valdostana, a cutlet also with Fontina cheese and cooked ham, best grilled Sant-Oyen-style.

Among the specialities with Fontina we also find seupa à la Vapelenentse, a recipe originating from the nearby Valpelline, with De.C.O local speciality certification. It consists of layers of stale bread, Fontina and broth. In the traditional recipe, the broth is made from Savoy cabbage, but meat broth is also used. The layers are just white bread and Fontina cheese. Some variants use black bread, wholemeal bread or rye bread, and cabbage leaves, with lashings of melted butter.

Cured meats are an important feature of local cuisine, and include the two PDO specialities: Lard d'Arnad, which is excellent as an appetiser with honey and chestnuts, and is very versatile for enriching other recipes, and Jambon de Bosses, a raw ham spiced with mountain herbs, which is excellent eaten au naturel accompanied by rye bread.
Visitors might also like to try motzetta, an aromatic dried meat; boudin, made with boiled potatoes, cubes of lard, red beetroot, spices, natural flavourings and wine: it is excellent as an appetiser, but also boiled, accompanied by mountain potatoes, and saouseusse, prepared with minced meat from Valle d'Aosta cattle and pork lard and then flavoured with salt, pepper, garlic, cloves, cinnamon and nutmeg.

Cheeses are also a significant feature, of course, and are renowned for their variety, versatility and goodness: not only Fontina, but also Fromadzo PDO, semi-sweet when fresh, more savoury when mature, or goat's milk cheeses, both soft and pressed, which are excellent accompanied by local honey, compotes or jams, rigorously home-made by the various companies that process the products they grow or that are found in nature, such as raspberries, apples or elder flowers.

Many of these products can be found every second Sunday of the month under the porticos of Aosta Town Hall, in Piazza Chanoux, at "Lo Tsaven", the Coldiretti-Campagna Amica farmers' market that offers products from around twenty local farms.

No meal in the Aosta Valley would be complete without the traditional fiocca dessert: whipped cream prepared with grappa and sugar.

The original recipe calls for the use of very fresh cream, preferably from the alpine pastures; it can be accompanied by tegole, crispy wafer biscuits made of hazelnuts, sugar, egg whites and flour.
Meals, from appetizer to dessert, can only be accompanied by some local Aosta Valley DOC wine, made from the some of the 13 grape varieties native to the area: Prié Blanc (the only white grape wine), Bonda, Cornalin, Crovassa, Fumin, Mayolet, Ner d'Ala, Neyret, Petit Rouge, Premetta, Roussin, Vien de Nus and Vuillermin.
The Aosta area is one of those where Torrette, the most renowned red wine of the Valley, reaches sublime levels. Also worth mentioning are the local grappas, which can be white, aged in oak barrels or flavoured with herbs, fruits, honey, spices. Especially worth a try are the monovarietal grappas, obtained from the native varieties of the region.
And then there is genepì, a refined liqueur made from a small aromatic plant that grows above 2000 metres a.s.l. Belonging to the Artemisia genus, it is an excellent digestive, with a distinct taste of the mountains.

Grappa, genepì and spices are used to enrich Valdostana-style coffee, which is drunk in a special friendship cup, so called because it is drunk "à la ronde", from spout to spout and passing the cup from hand to hand: the important thing is never to place it on the table until it is finished, otherwise the friendship of the diners will come to an end.
Share: