Running, swimming and skating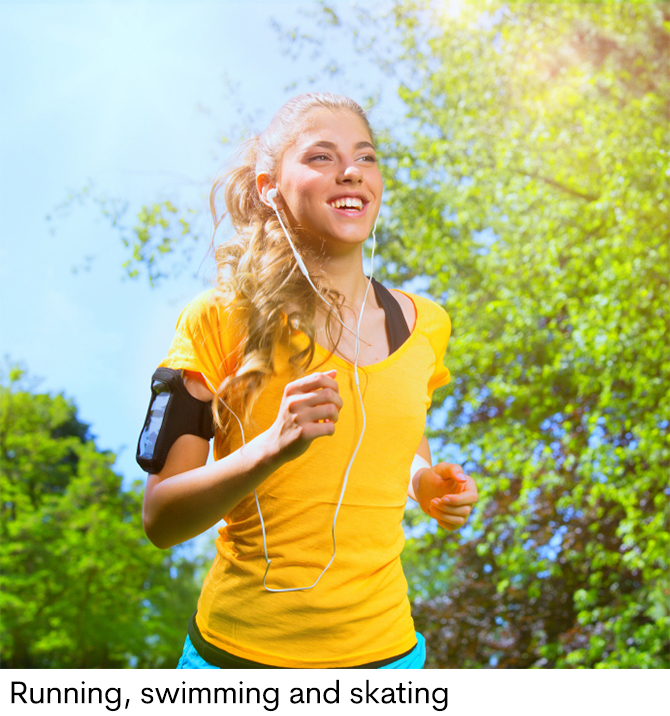 Running, swimming and skating
What could be better than setting aside some time to exercise when we're taking a break from everyday life, work and stress?

The cycle-pedestrian track of about 20 km where you can run, cycle or stroll, the swimming pool for those who feel lost without a few laps, the skating rink for a winter thrill all year round: all this awaits you, so you can enjoy as much sport as you like, just outside the centre of Aosta.
Among the monuments or the greenery: a jog in the open air
Morning person? Here's a tip: take a jog through the heart of Roman Aosta in the early hours, when the streets are still virtually empty – the town will be all yours!
Alternatively, just a short walk from the historic centre, you'll find the VéloDoire cycle/pedestrian path: about 20 km from Sarre to Fénis, skirting Aosta. A flat route, also suitable for bicycles, which runs along the Dora Baltea and through a nature reserve that's a birdwatcher's paradise.
Swim a lap or two and get some sunbathing in
Aosta and the surrounding municipalities offer a variety of possibilities for swimming enthusiasts.
In the sports area to the west of the town, there are two swimming pools , one indoor and one outdoor,
The indoor facility (main pool 25 x 12.5 metres) is open all year round. Next to it is the open-air pool, which in summer offers a 50 × 20 metre pool with 8 lanes, a 25 × 8 metre teaching pool with 3 lanes and a circular play pool for children, as well as games and a solarium.
You can also enjoy swimming and sunbathing a few kilometres outside the town: in Sarre, at the Hotel Etoile du Nord and in Brissogne, at the Les Iles centre. 
Indoor swimming for adults and little ones, for functional recovery and for users with disabilities is also offered in Variney, 5 km from Aosta, on the road to the Great St Bernard Pass. Here you can meet the manager, Nicola Brischigiaro, a multiple world record holder in horizontal apnoea, nicknamed "The man who talks to dolphins".
Also in the western sports area of the city, near the swimming pools, is the Ice Stadium: 60 × 30 metre rink and a grandstand with a capacity of over a thousand spectators. The facility, which hosts hockey matches and figure skating competitions, offers skate rental and a bar/restaurant
Share: